I was casually watching a cooking show by Nigel Slater from the UK when this segment for porridge appeared. With all the health benefits proven with oats - lowering bad cholesterol, low GI, improving the good bacteria in the tummy to fight the bad bacteria etc. plus my kids adore porridge, I was intrigued that there could be such a thing as a champion at making porridge. It was a revelation to me in fact and I have made it this way ever since. I love it with jam, my kids love it with maple syrup. Perfect breakfast in the world!
http://www.theguardian.com/lifeandstyle/2012/mar/04/nigel-slater-classic-porridge-recipe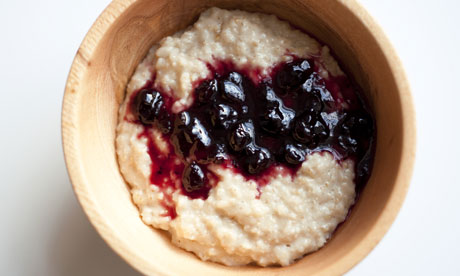 Pictured: Nigel Slater's Classic Porridge
The recipe - direct from Nigel Slater's website
Pour three cups of water into a small saucepan and place over a moderate heat. Tip in one cup of medium oatmeal and bring to the boil, stirring constantly. As soon as the porridge starts to blip, add half a teaspoon of salt. Continue stirring until the porridge has been cooking for a total time of 5 minutes. Tip into warm bowls. Have a bowl of cold milk or cream ready. Lift a spoonful of hot porridge and dip it into the cold milk or cream and eat.
The trick
Only stir your porridge clockwise or you risk summoning the devil. A wooden spurtle will get right into the corners and prevent your porridge from sticking. Eat immediately it is ready. The porridge will thicken as it cools. Use medium oatmeal rather than rolled oats. Add salt to all porridge, even if you are going to sweeten it afterwards.
The twist
Each to his own, but porridge is correctly made with water rather than milk. The usual embellishments are red-berry jams, golden syrup or honey, but other ideas include a compote of stewed dried figs, maple syrup or a mixture of fresh berries, sugar and ground cinnamon. You could also leave it to set into cakes and fry it in butter. Oatmeal ice cream, made with toasted oatmeal and cream, while not quite porridge, is certainly worth a visit, too.

Tastebuddy
|

Post a Comment
|

Thursday, April 10, 2014 at 9:36AM

Email Article

Print Article